Renewed ISO-27001 certification 2023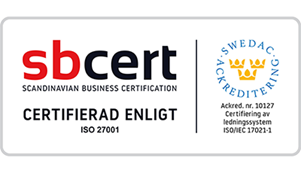 We have once again gone through a positive and successful external audit for our ISO 27001 certification.
The fact that the ISO 27001 certification passed the yearly review with success shows that we take care of our customer's information in a structured and safe manner.
"Dedicated work and a daily focus on safety and security is the foundation for these results. We are delighted with the outcome of this year's audit and all employees' efforts, " says our CEO Linda Brauinas.