Artologik on the European Edtech map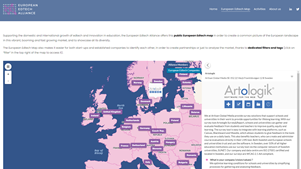 Artologik is now listed on the European Edtech map, indicating our position and offer among Europe's edtech companies.
The European Edtech Alliance (EEA) is a consortium supporting Edtech founders and providers across Europe. Their mission is to strengthen the pan-European Edtech ecosystem, and the European Edtech map is a tool to achieve this.

"By being visible on the map, we hope to be able to support more schools and higher education institutions", says our CEO Linda Braunias.

The map listing is a result of our membership in the Swedish Edtech industry, a trade organisation bringing Swedish edtech companies together to support them in their work to develop tools for lifelong learning.
Read more about how schools and universities can use Survey&Report