EZbooking. Your Booking Software for Resource Sharing
Let us show you how to reduce loss of time and energy
The true strength of Artologik EZbooking lies in the software's ability to organise and optimise bookings of shared resources. Our mission is to develop reliable and easy to use software that lets you minimise administration. Start simplifying today.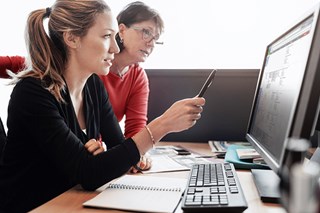 Looking for a logical tool?
Start working immediately. It's true. This software is so intuitive that end-users don't need training.
Facing changing conditions?
Configure to meet changes. Adapt the program to fit your way of working right now and in the future.
Need total control of resources?
Keep track with calendars and reports. Define who can book what items during which times and at what price.
Prefer to book from Outlook?
Synchronize your scheduling. Work in one tool but combine the strengths of two powerful systems.
Want Room display booking?
Place outside your meeting rooms. View room availability and provide the possibility to book directly on the screen.
Wish to act based on facts?
Let the system work for you. Export data based on usage and occupancy rates with robust features.
One Intuitive and Adaptable Online Booking System
Equipment, rooms, and vehicles are shared resources that organisations use Artologik EZbooking for today. However, thanks to its flexibility, the system can be used for all kinds of bookable resources. Easy to use and easy to adapt.
Core Facility Management
Core facilities
Manage scientific instruments. Schedule and connect resources to projects and track actual time used.
Meeting rooms
Prevent double-bookings and optimize usage of your shared meeting- and conference rooms.
Conference centres
Motivate and inspire effortlessly. Provide the possibility to order catering for meetings and events.
Construction sites
Schedule and control all deliveries by letting your suppliers book delivery slots.
Physical Key Management
Carpools
Simplify car-sharing. Book a car, get a PIN code and pick up the key in a key cabinet.
Visitor registration
Keep track of visitors in your building by logging visits, along with recipient-, and room information.
Physical Key Management
Sports venues
Administrate utilisation of stadiums, gyms, sports halls etc. and facilitate recurring bookings.
Hospitals
Schedule counselling sessions for your patients and register participants for group therapy.
Shared resources
Make sharing easy by managing shared resources such as workstations, equipment, software etc.
Can you afford not to use these EZbooking features?
Are you tired of time-wasting activities such as tracking missing equipment or annoyed employees because of double bookings? We have the solution. Artologik EZbooking puts you in control over your bookable resources.
Define how and when resources shall be bookable
Show available time slots on your website
Set fees, charge usage and give discounts
Share the booking tool between teams
Three Cornerstones for You to Benefit from
Deciding to implement a system can be challenging. Therefore, we want you to feel safe when choosing us as a partner. With many national and international customers, experienced employees, and security certification, you are in good hands.
Countries
The Artologik product series, including HelpDesk, Survey&Report, and EZbooking, is used by organisations across the globe.
Years of experience
Take advantage of knowledge, skills, and wisdom from experts who have developed and sold IT solutions for a very long time.
ISO Certified
We know that you take security seriously, and so do we. Our company and our data centre are ISO/IEC 27001:2014 certified and located in Sweden.
Our Success lies in Your Experience
The web-based system is one thing. But do you know what you get in addition to the software?
Try before you buy
Receive a personal trial licence, plan a private online demo, get all answers to your questions. Evaluate. Then decide.
Configuration & training
Get implementation guidance and learn from experienced instructors in user training sessions. Go live in no time.
Appreciated support
Contact us, and you will meet competent, service-minded, and committed personnel. Good relations are essential to us.
Be safe with us
We take your security seriously. Our company and our data centre are ISO 27001 certified and located in Sweden.
Cloud or On-Premise
Get 99,9% availability with our SaaS solution or choose On-Premise and install the software on your web server once.
Adapt to fit your needs
The program's flexibility allows you to adapt the system to match your routines and requirements using plug-ins.
One independent company
We take the decisions, develop the software, and give support - in dialogue with you but without external impact.
Program customisation
Our closest partner is you. If you want more features, notify us. Your idea might become the next problem-solving feature.
Link to applications
Integrate your software with your Artologik licence by sending or receiving data through, e.g., API
Rent or Buy - Choose your plan
Pay per numbers of active users and bookable objects. No difference in functionality
Cloud
Use as SaaS
99,9% uptime warranty
ISO 27001-certified Data Centre
Daily Backups
Service Agreement included
On-Premise
Self-hosted
Access through your network only (optional)
One-time Purchase
Perpetual license
Service Agreement available (optional)
Try for Free for 30 days
Reading about the software or booking a demo are great ways to get to know the program. In addition, we genuinely recommend that you sign up for a free trial.
Customise your trial site to suit your organisation and test as much as you wish during 30 days. Free of charge and without obligations.
All data entered is private, and we treat your personal data with confidentiality in accordance with GDPR. Your trial will end automatically.
Book a Personal Demo
Would you like to learn more about our software and how you can adapt it to your needs? Enter your contact information, and we will contact you for a free-of-charge personal demo. We are looking forward to showing you!
Ask us. We will do our Best to Help You
We are happy to answer any questions regarding our software and services. Please fill out the form, and we will be in touch with you soon. We treat your personal data with confidentiality in accordance with GDPR.