HelpDesk. Your Ticketing System for Better Service
Let us help you build strong and lasting customer relations
Artologik HelpDesk is a success because we value relations. Your story inspires us, and we are passionate about providing the foundation that helps you give quality support. Trust more than three decades of experience. We will listen.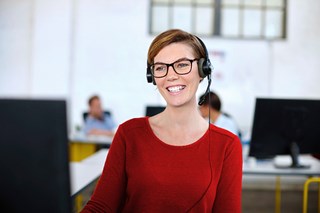 Value workflow adaptability?
Handle changes. Scale and adapt your web-based ticketing system to your needs.
Web forms
Favour easy ticket registration?
Simplify your support. Create web forms and publish them on your website.
Eager to coordinate activities?
Centralise support tickets. Gather all interactions in one place and keep control.
Need to increase productivity?
Support your team. Use dashboards and collaboration features to handle tickets smoothly.
Want more reliable information?
Analyse and improve. Use report engines to identify and follow up on improvement areas.
Thought of reusing solutions?
Save solved tickets. Build your FAQ by adding finished cases and work more effectively.
One Intelligent Ticketing Support System
Do you know that you can use the ticketing system for many purposes? The beauty of Artologik HelpDesk is its flexibility. You can, of course, customise the software for different kinds of support, but it does not stop there.
Product support
Strengthen your brand by giving technical assistance or instructions for use
Customer support
Build customer relations while managing complaints, returns, and refunds
Web forms
IT-support
Support end-users by letting your IT experts handle tickets efficiently
Web forms
HR-support
Provide your organisation with a tool to manage HR questions about salary, agreements, etc
Municipality contact centre
Respond to citizen issues and involve contractors in your support chain
Permit examination
Track and synchronize similar requests or applications before issuing permits
Information security
Uphold information security standards by managing risks and threats
Internal requests
Increase employee engagement while handling requests or ideas properly
Incident and service
Get notified by real-time service issue alerts and resolve incidents quickly
Can these HelpDesk features solve your challenges?
You have now seen examples of challenges Artologik HelpDesk can solve and for what purposes you can use the web-based system. Here are some additional features that might interest you and your organisation.
Structure your ticket types
Reuse your gained knowledge
Gather feedback using surveys
Three Cornerstones for You to Benefit from
Deciding to implement a system can be challenging. Therefore, we want you to feel safe when choosing us as a partner. With many national and international customers, experienced employees, and security certification, you are in good hands.
Countries
The Artologik product series, including HelpDesk, Survey&Report, and EZbooking, is used by organisations across the globe.
Years of experience
Take advantage of knowledge, skills, and wisdom from experts who have developed and sold IT solutions for a very long time.
ISO Certified
We know that you take security seriously, and so do we. Our company and our data centre are ISO/IEC 27001:2014 certified and located in Sweden.
Our Success lies in Your Experience
The web-based system is one thing. But do you know what you get in addition to the software?
Try before you buy
Receive a personal trial licence, plan a private online demo, get all answers to your questions. Evaluate. Then decide.
Configuration & training
Get implementation guidance and learn from experienced instructors in user training sessions. Go live in no time.
Appreciated support
Contact us, and you will meet competent, service-minded, and committed personnel. Good relations are essential to us.
Be safe with us
We take your security seriously. Our company and our data centre are ISO 27001 certified and located in Sweden.
Cloud or On-Premise
Get 99,9% availability with our SaaS solution or choose On-Premise and install the software on your web server once.
Adapt to fit your needs
The program's flexibility allows you to adapt the system to match your routines and requirements using plug-ins.
One independent company
We take the decisions, develop the software, and give support - in dialogue with you but without external impact.
Program customisation
Our closest partner is you. If you want more features, notify us. Your idea might become the next problem-solving feature.
Link to applications
Integrate your software with your Artologik licence by sending or receiving data through, e.g., API
Rent or Buy - Choose your plan
Pay per user that can handle tickets. No difference in functionality
Cloud
Use as SaaS
99,9% uptime warranty
ISO 27001-certified Data Centre
Daily Backups
Service Agreement included
On-Premise
Self-hosted
Access through your network only (optional)
One-time Purchase
Perpetual license
Service Agreement available (optional)
Try for Free for 30 days
Reading about the software or booking a demo are great ways to get to know the program. In addition, we genuinely recommend that you sign up for a free trial.
Customise your trial site to suit your organisation and test as much as you wish during 30 days. Free of charge and without obligations.
All data entered is private, and we treat your personal data with confidentiality in accordance with GDPR. Your trial will end automatically.
Book a Personal Demo
Would you like to learn more about our software and how you can adapt it to your needs? Enter your contact information, and we will contact you for a free-of-charge personal demo. We are looking forward to showing you!
Ask us. We will do our Best to Help You
We are happy to answer any questions regarding our software and services. Please fill out the form, and we will be in touch with you soon. We treat your personal data with confidentiality in accordance with GDPR.
Latest news
New Swedish Edtech members
We are happy to announce that we are now members of the Swedish Edtech Industry, the Trade Association for Swedish Edtech.