Customer surveys via HelpDesk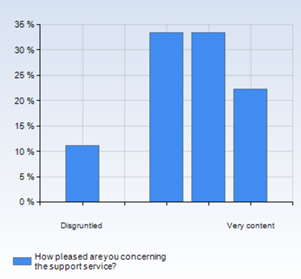 The plugin HD-SR brings two Artologik applications together: HelpDesk and Survey&Report. You can connect Survey&Report to your Support software. In this way you can send surveys to your Customers and they can give you valuable feedback in return.
Create your survey in Survey&Report, with the design you prefer and mailings that shall be sent to respondents. The mailings contain the link to be used for answering the survey.
In HelpDesk you create rules to define which users shall be invited to answer surveys and when. Criteria used to filter out the users could be: time frame, support theme,organisation, case status etc.  The transfer can be done once or on a recurrent basis according to your planning. For each rule you can also define how often a user shall receive the invitation to the survey to prevent them from getting the invitations on more occasions than you wish.
When the survey is finished, you use Survey&Report to process, compare and present data in a lucid way.